Hiring an injury lawyer who is having good experience to represent your case is a more crucial factor in a successful story. An experienced lawyer can help you in investigating the basis of your claim. Also, The experience and skills of your lawyer will play a pivotal role in the amount of compensation you receive. You may have a question about how to find a personal injury lawyer for handling your case. Ask the following questions to the lawyer to ensure that he/she is having the capability to handle the case.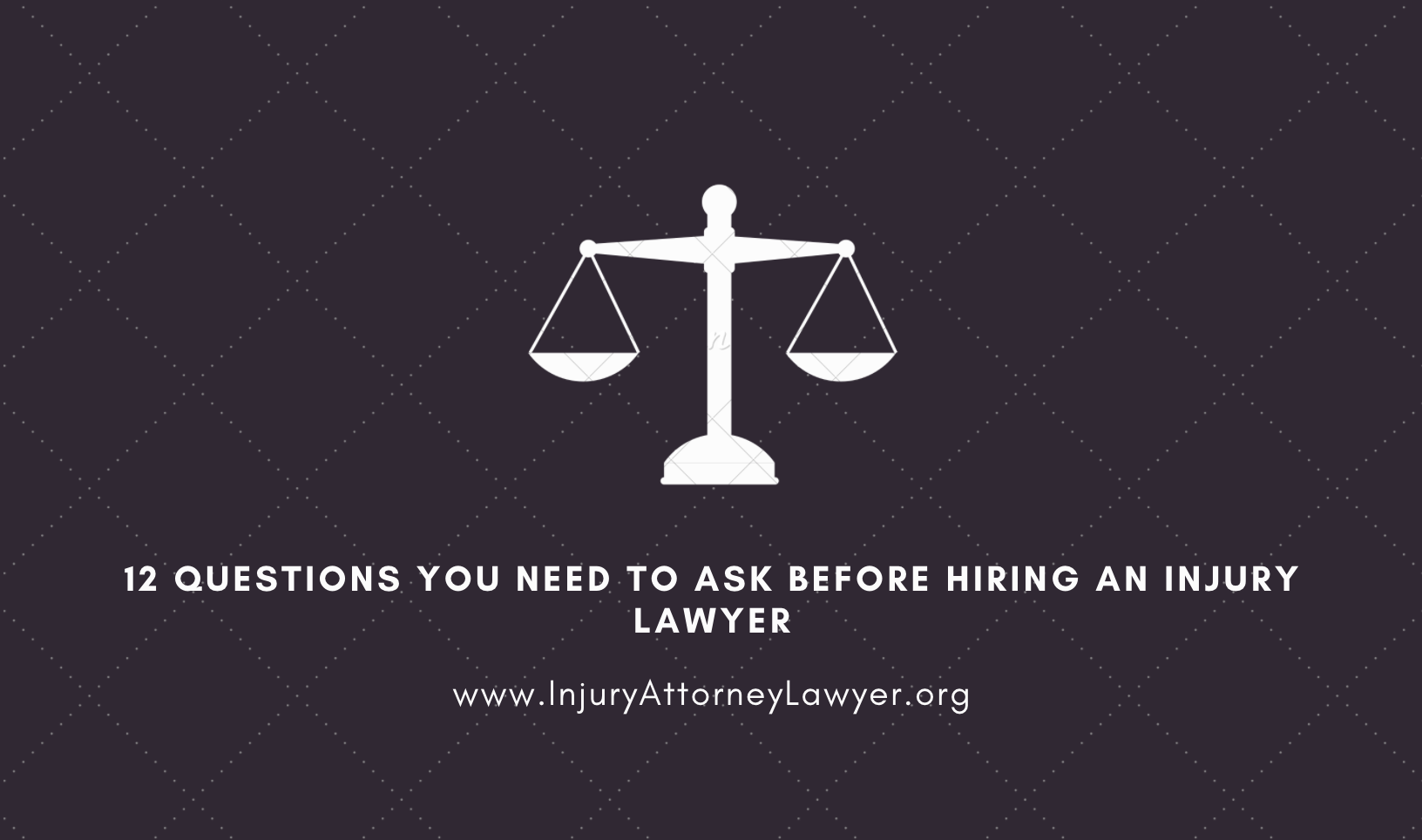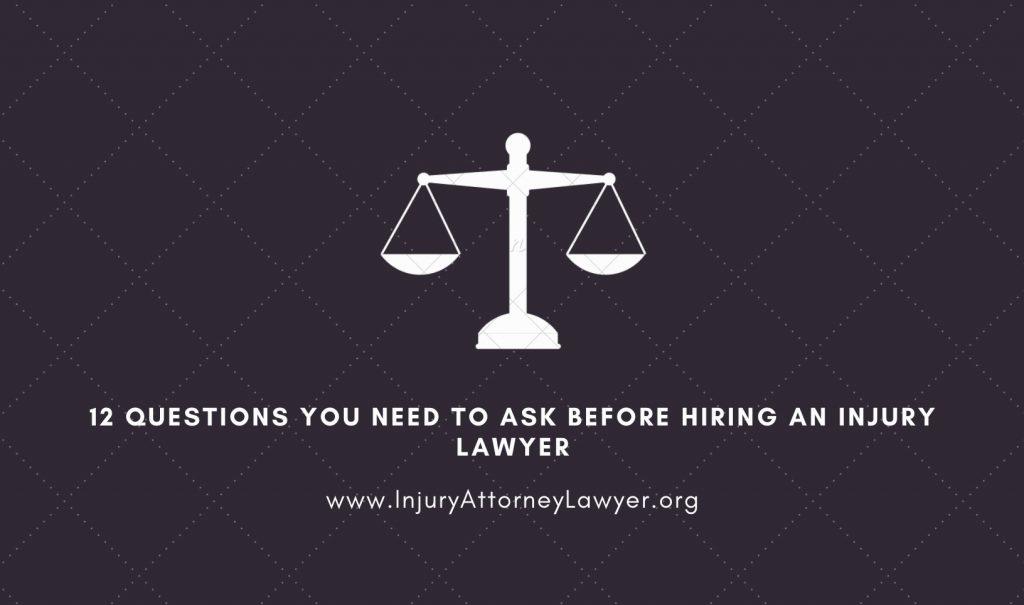 i) What do You Charge for Your Services?
In most cases, the personal injury lawyers will operate on a contingency fee basis. This mentions that there is no need to pay a fee until you get a settlement for your damages. In this fee agreement, the lawyer will take a fixed percentage on settlement. Hence, it is necessary to discuss the settlement percentage before hiring an injury attorney.
ii) How Long Have You Been Practicing Personal Injury Law?
Our main concern is about helping you to choose an experienced attorney having the ability to handle the case. While you are hiring an injury lawyer, be direct to post your questions and doubts. The first question you have to ask the lawyer is about their experience in handling personal injury cases. Along with this, you have enquired them about the success rate in this field. These two questions can help you in hiring an injury lawyer who is experienced in your case.
iii) Have You Handled Personal Injury Cases Like Mine Before? If So, Did Any Go to Trial?
The experience of an attorney is not just enough for hiring an injury lawyer. They might have years of experience and a success rate in some other field which is not required in your case. So, you want someone having success stories in handling personal injury cases. A lawyer having prior experience similar to your case can help you to get a targeted settlement.
iv) What Issues or Difficulties do You See with My Case?
In every personal injury case, there will be different issues and difficulties in handling them. Thus, A lawyer having expertise can point to these issues and can address them in the right direction. If your attorney says that your case is moving smoothly for days, that should be a serious red flag. This clearly states that your case is not moving in the right direction. The lawyer should track the case record and must focus to sort out the case as soon as possible. An attorney should honestly share the issues and difficulties with you to take forward a good decision.
v) How Will You Keep Me Updated on the Progress of My Case?
Communication is the gemstone of maintaining any kind of relationship. Ensure that will someone be available to attend your calls and answer your queries until the settlement arrives. Some clients look for occasional updates while others look for regular involvement in the case. In such cases, your lawyer should make you comfortable based on your requirements. Anything may be your preference, but you have to get crystal clear updates about your case.
vi) Do You Have Testimonials or References from Past Clients that I Can See?
The testimonials will reveal the relevant information about the attorney's work nature and the client's feedback. Most of the attorneys will post their testimonials on their firm's website.
But if not posted you have to raise a question about this before finalizing a deal with the lawyer. Some of the experienced lawyers will receive referrals from other attorneys of different specifications.
vii) What Happens if I Lose? Will I be Responsible for any Case-Related Costs?
This question is very important as it may have a direct impact on your financial livelihood – listen up!
Each case will have certain litigation costs (for those who tried in the court of law). These costs may add up as longer your case goes on. While communicating, you have to ensure about their policy regarding these expenses. Some attorneys will charge these costs independent of final judgment (win or lose).
viii) How Much Time Can You Devote to My Case? What is Your Current Bandwidth?
In case of serious injuries, your lawyer must take care of your case legal procedures with the amount of attention. In some cases, you may take your case to a senior lawyer who might handle various other cases. When you are contacting such lawyers make sure how much time will they dedicate to your case. Along with this ask about the bandwidth required to complete the case.  Also, there might be a chance of shifting your case to junior lawyers working under them. In such cases, you have to ensure which lawyer will be handling your case.
ix) What is My Personal Injury Case Worth?
Every case is unique and requires different settlement fees to handle your case. As n experienced attorney, they should provide an estimated case worth details. Your attorney should have the ability to negotiate with the insurance companies. This negotiation may increase your settlement amount. In some cases, we cannot expect the settlement can be finalized out of court. Make sure that your lawyer is ready to take the case to court where settlement is not received.
x) What Happens if My Case Goes to Trial? Will the Fees Change? Will You Take My Case to Trial Yourself?
Insurance companies will always try to reduce the financial compensation, hope that you might take and run away. Everyone will have the interest to settle the case out of court but might differ in each case. If the settlement is not fixed then your lawyer should take the case to court. In such cases, your attorney should fight in court for maximum settlement compensation. They must know the tactics to negotiate effectively with the insurance companies. Thus, Ask the lawyer and clarify that there might be a chance of high settlement by approaching the court.
xi) How did Long Will Resolution take?
When the client has severe injuries and damages, there is a chance of long-time negotiation. There are so many variables to consider while calculating the time period required for completion:
Court calendars
Opponent's behavior and willingness to settle
The complexity of the case
xii) Whether you have the financial and staffing resources to take on my case?
Lawsuits involving serious personal injuries can be very expensive to take to court. If an attorney lacks these financial and staffing resources might take your case in the wrong direction. These lawyers may expect you to offer the expenses before you receive the settlement. This can create the worst experience with the lawyers. So, it is necessary to post this question to your lawyer before hiring them.